Author of Let's Walk Nordic
I am a National Trainer for the International Nordic Walking Federation and have been teaching Nordic walking for over twelve years. During this time I have taught hundreds of people of all levels and abilities to improve their fitness, body shape and wellbeing through Nordic walking.  
This is what I've learned: Through the simple act of Nordic walking it is possible to take back control of your health.
I have personal experience. I started Nordic walking after post-viral arthritis left me unable to continue running. I didn't understand why my body had reacted in this way and I didn't know how to fix it. I decided to train as a personal fitness trainer to understand my body better and know how to look after it. Along this journey I discovered Nordic walking.
It was a magical gateway. Nordic walking was powerful and strong, but also supportive and kind on my joints. Through it I was able to return to full fitness and my body is in better shape now than it was when I was running. I can see the ripple of muscles on my arms and shoulders, back pain is a thing of the past, and I now walk with naturally good posture. I feel fit and strong and in touch with my body and I hardly ever get coughs or colds. The best thing though is that it is fun and sociable and I am doing a walk and a workout all in one.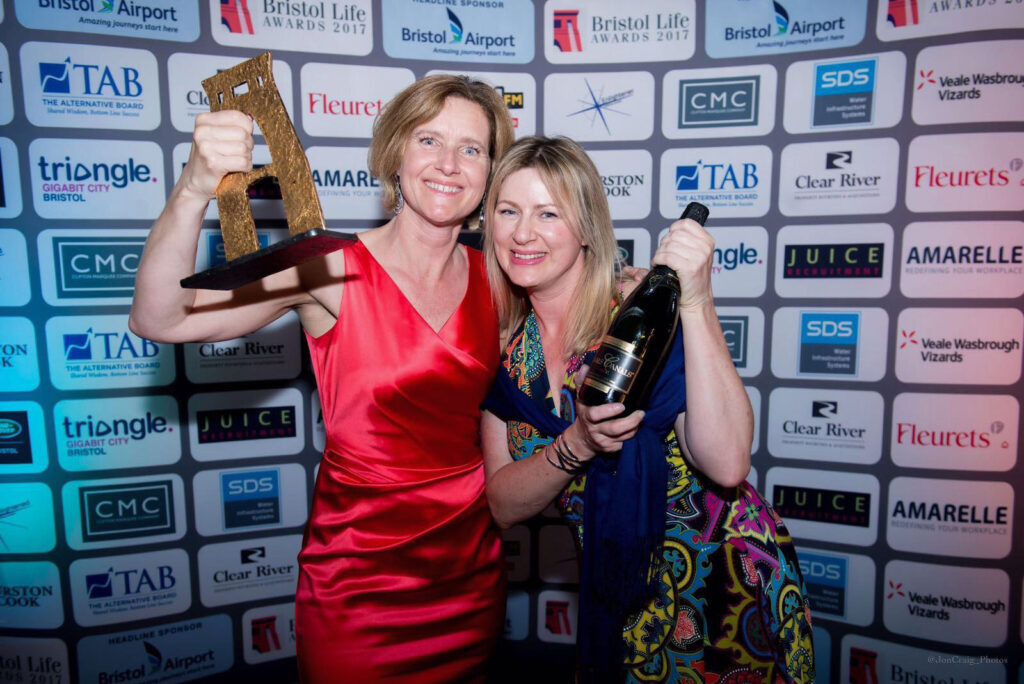 My Nordic walking 'career'
Inspired by the positive effect Nordic walking had on my own body and mental wellbeing, in 2010 I set up Bristol Nordic Walking.
Bristol is a place with lots of parks and green spaces and people enjoy being outdoors. Although Nordic walking was virtually unheard of, it soon caught on. With the help of my new business partner, Ros, our club grew to the largest in the country with over 30 weekly walks, 11 instructors and easily 300 regular walkers. We had such a fun time – getting fit together, Nordic walking in different parts of the country and abroad, training for Nordic walking challenges, and of course talking, laughing, and supporting each other along the way. Bristol is now arguably the largest Nordic walking centre in the country, and it's a really supportive, friendly community. 
This photo is of a crazy moment – myself and Ros celebrating Bristol Nordic Walking winning Best Health Business at the 2017 Bristol Life Awards.
I loved my time at Bristol Nordic Walking, but Bristol is a very multi-cultural city and I became aware that it's a city with big health disparities and that many people on low incomes couldn't afford the cost of Nordic walking poles or classes.
I felt I could contribute my skills to redress that balance and had the immense good fortune to meet Subitha Baghirathan who has extensive links with many community and voluntary organisations and social prescribing teams. Together we have developed an NHS and private sector funded Nordic walking wellbeing programme to encourage more people, particularly those from African, Caribbean, and South Asian communities and other people who are visibly minority ethnic, to improve their mental and physical health through Nordic walking.
Now in our second year, we have a team of 8 instructors representing the diversity of Bristol's population. We have introduced Nordic walking to four new areas in Bristol, and already over 200 people have learned Nordic walking with us. Visit www.letswalkbristol.org to find out more.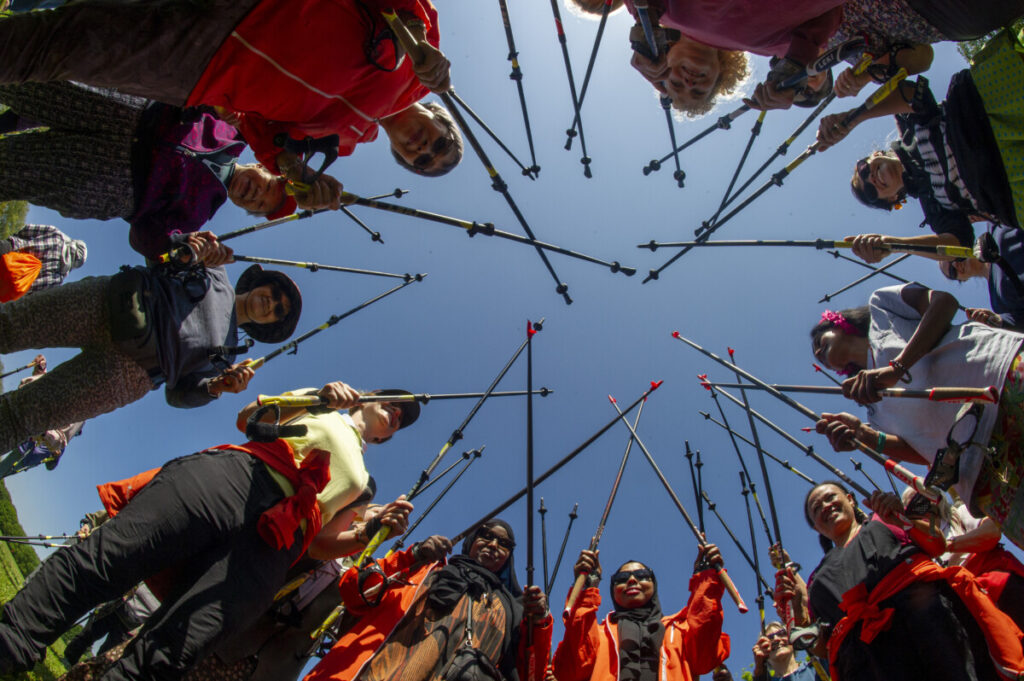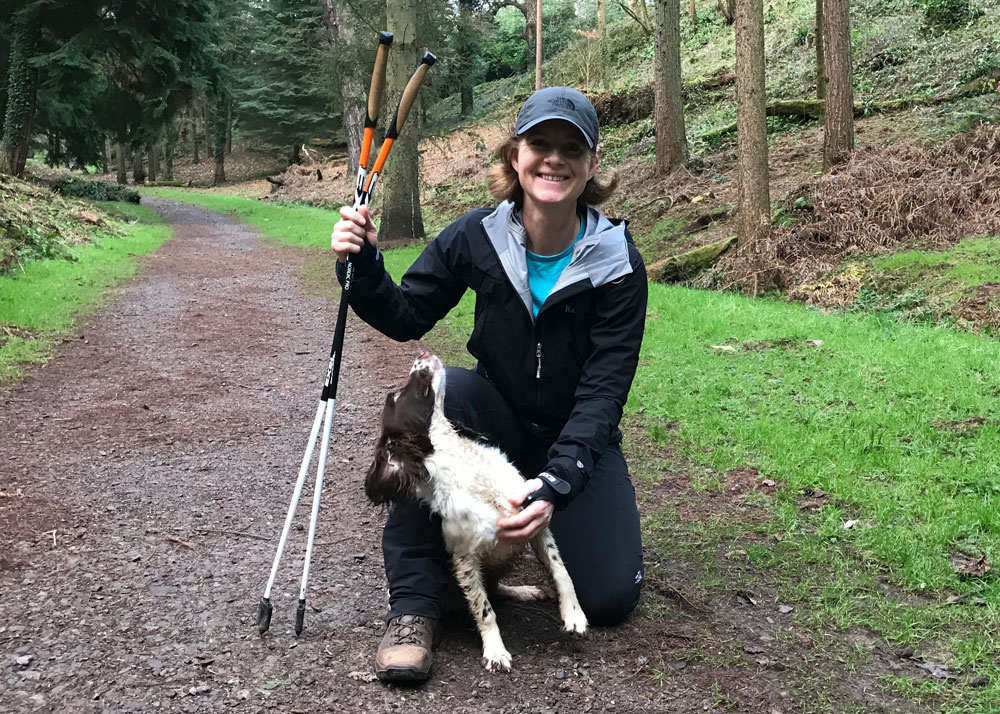 To get all the benefits Nordic walking has to offer you have to do it right. So many Nordic walkers are missing out because they walk with poor technique. It's one of the reasons I wrote my book Let's Walk Nordic – to set out in a clear and simple way how to Nordic walk for maximum benefit. 
I run bespoke Nordic walking workshops to share my knowledge and help make a difference. If you are interested in learning Nordic walking or refreshing your knowledge go to my Learn with Vicky page for my upcoming workshop dates. 
I myself continue to Nordic walk almost every day, usually accompanied by my springer spaniel, Alfie.
"If you aren't yet familiar with Nordic Walking, just try it! With Vicky's expert guidance and enthusiasm you'll soon know how much happier your body and mind will feel. And for those already familiar with Nordic Walking, the expert tips in this book will help you take your exercise safely to a new level – whether you are trying to lose weight, tackle specific health issues or simply to have fun and keep fit in a way that you can continue for many years to come."
Dr Sally Norton MBChB MD FRCS